Wisman High Voltage Power Supply was invited to participate in the complex radiation field technology and application professional committee of the Chinese Academy of Ordnance on April 27th to 29th, 2021. The State Key Laboratory of Complex Electromagnetic Environment Effects of Electronic Information Systems, and the Chinese Academy of Sciences Technology Key Laboratory, National Key Laboratory of Electromagnetic Environment Effects and Key Laboratory of Electronic Testing Technology hosted the 4th National Conference on Complex Electromagnetic Environment Technology and Application in Hangzhou.
Through this conference, the academic exchanges of Chinese complex electromagnetic environment research have been strengthened, the research horizons of scientific researchers have been expanded, the academic atmosphere has been active. The development of Chinese complex electromagnetic environment and related technologies has been promoted. Taking this opportunity, Wisman High-Voltage Power Supply's sales elites participated in the exhibition,they brought their self-developed products with them at the same time. Demonstrated Wisman's mature high-voltage power supply products and solutions to the participants, and communicated the related technical issues of high-voltage power supply.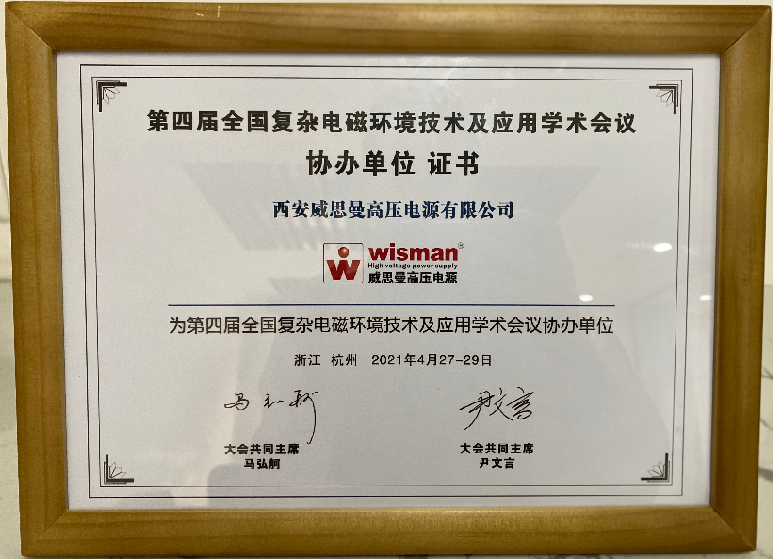 For information concerning our high voltage products, please call at 086-029-33693480 or visit our website www.wismanhv.com

Wisman High Voltage Power Supply advances medical care, industrial processes, quality control, scientific research, security and telecommunications by providing innovative high voltage power supplies including micro-modules high voltage power supply, modules high voltage power supply, X-ray generator, rack mount voltage power supply, special customized high voltage power supply, high voltage accessories, etc. that enable equipment manufacturers to improve their systems' performance, reliability, cost and bottom line. Power range from 100mW to 200kW, voltage range from 60V to 500kV. You can purchase multiple varieties and specifications in one-stop from us. We have a high-voltage power supply research and development team, high-voltage power supply development software and software for testing high voltage insulation technology and zero current resonance technology, making our high voltage power supplies maintain high stability, low ripple, excellent in EMC. Our products are compact, highly efficient with a long operating life.
Wisman high voltage power supplies are competitively priced and a great idea for OEM customers.